Test Method Development and Oversight

Testing Services – NEW TEOM for on-site PM analysis, FTIR & GCMS
---
• Emission Monitoring Inc. conducts source-specific evaluations and environmental audits of new monitor installations or existing hardware and systems to develop recommendations that avoid or resolve problems cost effectively. This may also result in development of bid specifications, purchase contracts, and performance guarantees. Source- and monitor-specific quality assurance plans for operating monitoring equipment in accordance with applicable data quality objectives or regulatory requirements can be developed or existing QA plans can be reviewed. Reviews include formulation of detailed step-by-step procedures and associated record keeping and reporting systems requirements.
---
Test Method Development and Oversight
• Current regulatory efforts to develop standards for hazardous air pollutants require the use of new emissions measurement methods in testing programs conducted by agency representatives, affected facilities, and trade organizations. Emission Monitoring Inc. provides expert services in the development of test protocols, negotiation of requirements with control agency personnel, test bid specification and bid evaluation, on-site observation, and report review. Oversight and coordination of test programs is crucial in developing legally defensible results where critical measurement issues are encountered in the application of new methods.
• Emission Monitoring Inc. has developed new test methods for equipment manufacturers, trade organizations, and specific companies.  Four ASTM Task Groups that have developed new standards for extractive FTIR measurements (ASTM D6348), direct interface GCMS methods (D6420), HCl by improved M26 (D6735), certification of continuous opacity monitors (D6216), and portable electrochemical cells, are chaired by Dr. Laura Kinner and Jim Peeler.
---
TEOM TESTING AND DIAGNOSTIC SERVICES -  NEWS FLASH !!!
EMI has acquired a TEOM (Tapered Element Oscillating Microbalance) Source Particulate Monitor for the conduct of in-situ particulate matter testing.  This unique device has been approved by the US EPA as an alternate to Methods 17 and 5.  The principal of operation allows direct mass measurements to be made on a real time basis thus allowing facilities to tune their particulate matter control devices.  Additional uses for the instrumentation are; compliance applications for Methods 5 and 17, calibration of PM CEMS, real time process characterization of PM in short and long term modes, intermittent monitoring of source PM for long term calibration of PM CEMS, and real time measurements from low-concentration PM sources.
We expect this device will have a wide range of appeal especially for CAM plan developments.  To check out the instrumentation please visit the Rupprecht & Patashnick Co website TEOM
<![if !vml]>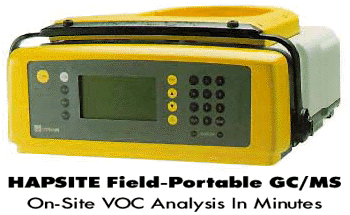 <![endif]>Additional Testing services
Emission Monitoring Incorporated offers on-site gas chromatography-mass spectroscopic (GCMS) analysis for volatile organic compounds using the HAPSITE portable GCMS (Inficon). Testing of stack gas, ambient air or other industrial emission points can be conducted with the results available within minutes of sampling. Using this methodology, numerous industrial sources have realized great cost savings through reduced permit fees. The direct interface GCMS test method (CTM-028) (GCMS Method) has been approved by the EPA for in field testing applications and is currently available on the EPA TTN. This method has also been approved by the EPA as an alternate (ALT-017) to Method 18 for numerous Part 60, 61 and 63 sources.
For more about GCMS testing follow this link GCMS INFO.
EMI also offers FTIR testing for compliance with NESHAP rules.  We have conducted over 50 tests in the Portland cement and gas compression industry on turbines and reciprocating engines.
• CEM Seminars Our seminars are routinely attended by diverse industrial personnel, and are held several times each year as a joint effort with Dr. James A. Jahnke of Source Technology Associates. This collaboration has produced four years of successful Seminars in this series.
• Specialized workshops Seminar topics on source testing, continuous emission monitoring, and current regulations are conducted by Emission Monitoring Inc. to meet the specific needs of industrial organizations, and regulatory agencies. In some cases, these workshops include hands-on equipment operation or field exercises in conducting audits or performance tests. Emission Monitoring also offers site specific training that can be customized to your company's specific needs; from specific monitoring and regulatory requirements to periodic testing.
• Computer-based training products are available from Emission Monitoring Inc. to provide self-instructional training in the performance of instrumental test methods or the application of specific monitoring or equipment. These include several interactive tutorial presentations and RM Simulator Training Software for EPA Methods 3A, 6C, and 7E, (© Copyright 1996 Emission Monitoring Inc., All Rights Reserved). This software package instructs source testers and observers by allowing them to conduct test runs with simulated analyzers and sampling equipment. Users experience the look and feel of the test equipment and are free to make mistakes in a learning environment. On-line help and a multimedia tutorial present instructional material in an easily accessible manner. The software runs under MS Windows Version 3.1 or MS Windows 95.
Instrumentation Evaluation <![if !supportNestedAnchors]><![endif]>
• Technical evaluations of instrumentation and innovative sampling systems are necessary for market and regulatory acceptance. These evaluations often include critique of calibration procedures and assumptions and identification of potential problem areas affecting initial certification, operation and maintenance, implementation of quality assurance procedures, development of analytical protocols and methods, or compliance with federal, state, or local agency regulatory requirements. Emission Monitoring Inc. performs these evaluations for specific installations or for a range of potential applications, for instrument developers, and for regulatory agencies. Market studies or other economic considerations may also be included. We have evaluated FTIR and GC-MS instrumentation, electrochemical cell gas concentration measurement instruments, a passive infrared flow rate measurement device, Gas Filter Correlation, and various particulate monitoring techniques.
• Emission Monitoring Inc. performs laboratory evaluations to verify instrument performance and to document calibration accuracy and stability over applicable conditions. Field tests range from simple ruggedness tests to extensive formal evaluations required to gain regulatory approval, such as Method 301 demonstration tests. Evaluations are conducted for new test methods or for monitoring equipment.
• Regulated facilities must carefully consider the costs and resource requirements involved in deploying various monitoring technologies or emission measurement methods. Consideration of regulatory issues and potential enforcement actions based on emission measurement data are fundamental concerns in the current regulatory environment. Emission Monitoring Inc. has extensive knowledge regarding continuous emission monitoring, parameter monitoring, and alternative techniques. We have contacts in virtually every industry and credibility with many regulatory agencies based on previous experience. Expert consulting services are also provided in evaluating implementation issues for monitoring programs.
Emission Monitoring Incorporated offers specialized consulting services to legal firms for civil and criminal cases related to environmental issues. Please contact us for a list of references.
If you have questions about these or any other services, send email to lkinner@emissionmonitoring.com